If you were a part of the recent Made in the Midlands expo, you'll have undoubtedly seen all of the great things our members brought with them to display at their stands. From motorbikes to machining parts, and jesters to 3D scanners, there was a lot to play with and learn about all throughout our exhibition at the Ricoh Arena.
In fact, there was so much that we had a bit of trouble deciding what we liked best. Our members really went above and beyond with their stands this year, and so we thought we'd take a moment to reflect on some of the most memorable displays.
For anyone who joined us at the expo, take this opportunity to look back on the great day you had. If you weren't there, keep reading to see exactly why you should get your tickets next year and start getting involved with Made In!
Manufacturing Excellence Limited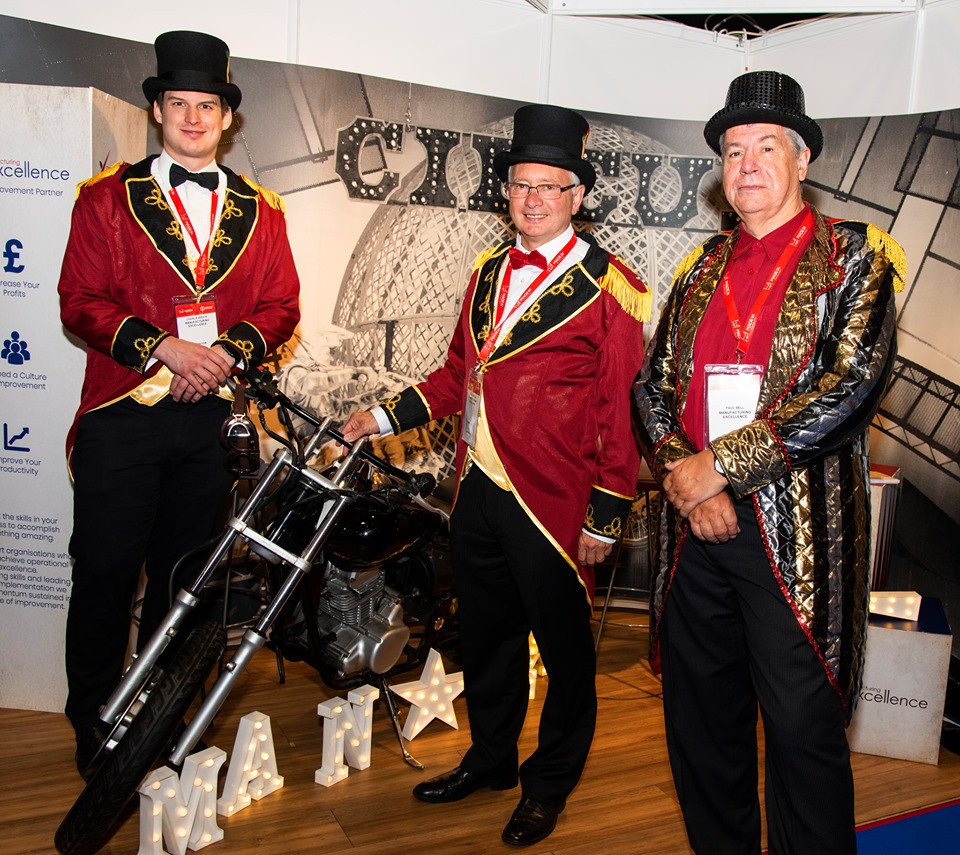 Circus! At the expo
First, let's start off with the stand that may well have caught your eye the quickest. Manufacturing Excellence Ltd specialises in business improvement for companies who are looking to boost their potential, and their work ethos is very similar to their goal for the expo: they wanted to create "the performance of a lifetime."
We think it's pretty safe to say that it was mission accomplished for Manufacturing Excellence at stand J27. With their undeniable swagger, vibrant circus attire, accompanying motorcycle, and even free candy floss, ME were busy all day with a constant influx of visitors.
You know what they say: come for the circus, stay for the lean manufacturing expertise.
Gleeson Recruitment Group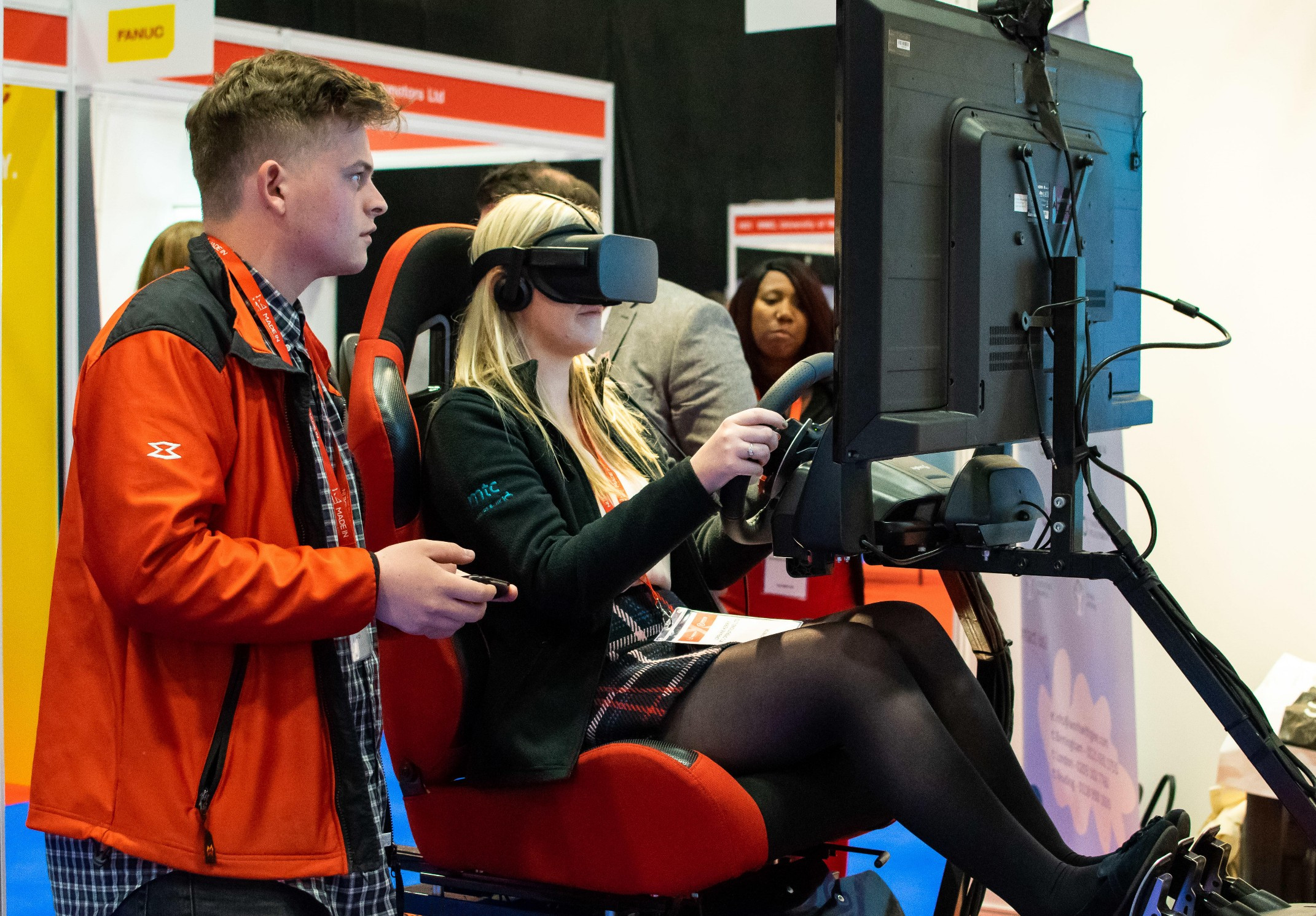 Some friendly, simulated competition at the expo
Did you test your skills behind the wheel during your time at the exhibition? Gleeson Recruitment Group, proud patrons of Made in the Midlands, brought with them their Hot Lap driving simulator complete with active leaderboard to facilitate a little friendly competition amongst visitors.
And, unsurprisingly, the car seat was rarely empty. Visitors and exhibitors alike strapped on the VR headset in a bid to win Gleeson's prize for fastest lap.
In-between the laps, Gleeson Recruitment were busy talking to visitors about the various opportunities they can offer to members of the UK manufacturing community. By the end of the expo, though, there had to be a winner - and it was Chris Cooper, Development Engineer at Distrupol Ltd, who finished the simulated lap with the fastest time and won the top prize.
For everyone else, there's always next year's expo.
Comau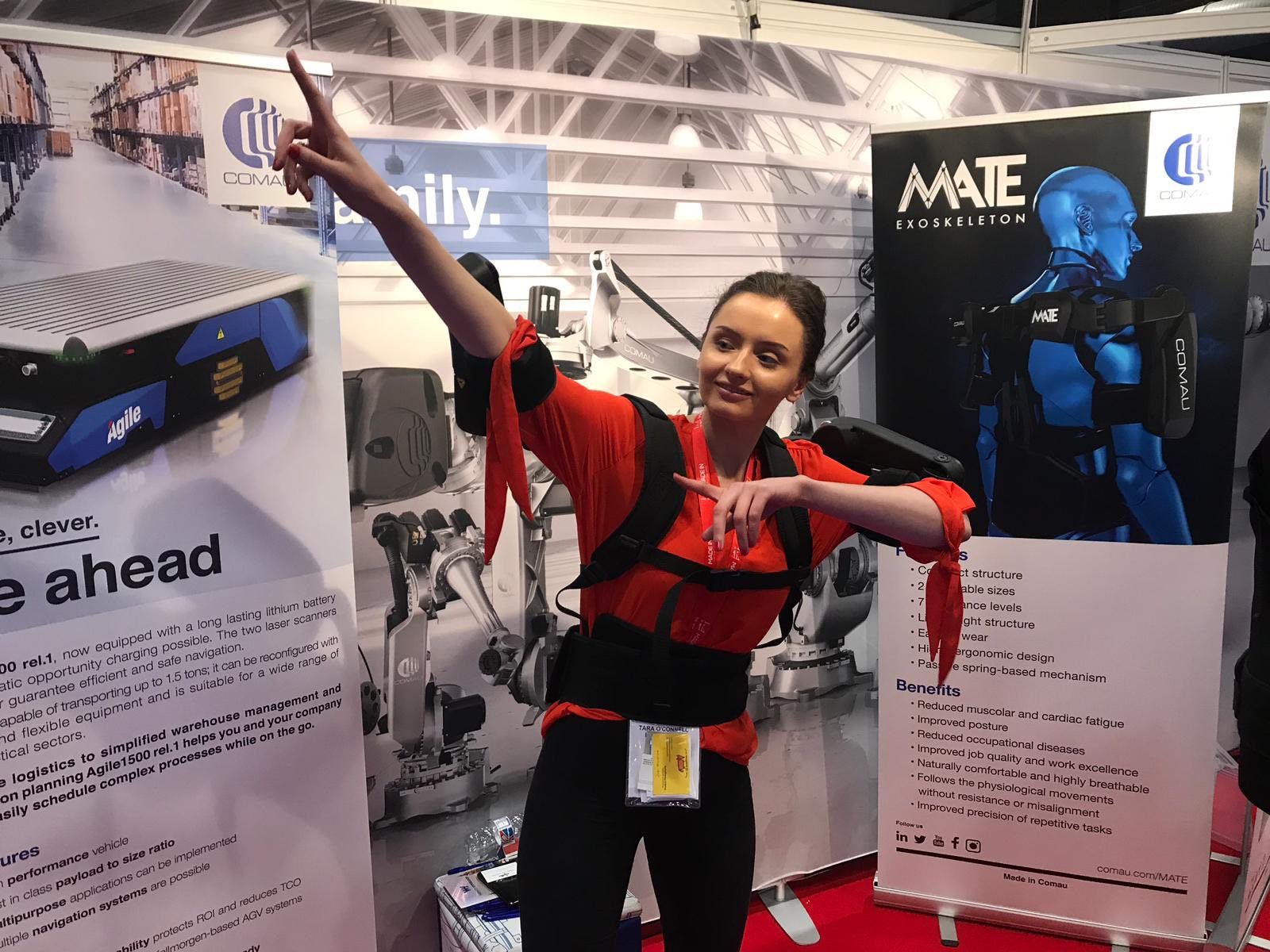 Creating super engineers with Comau
Amidst the crowds of manufacturers, visitors, exhibitors and networkers, you may have noticed certain individuals walking around with strange contraptions fitted to them. These contraptions were Exoskeleton MATEs, Comau's dynamically designed exoskeleton suit for workers handling heavy goods and lifting.
Designed in collaboration with factory workers and built for use in a myriad of manufacturing sectors, the Exoskeleton MATE is comfortable and moves easily with your body - as you may have discovered for yourself, if you visited Comau at their MiM booth.
Many of our exhibitors brought with them practical examples of their products which are used every day by UK manufacturers. Comau showcased a glimpse of things to come, where shop floor workers will see their work days augmented by technology and innovation.
University of Wolverhampton Racing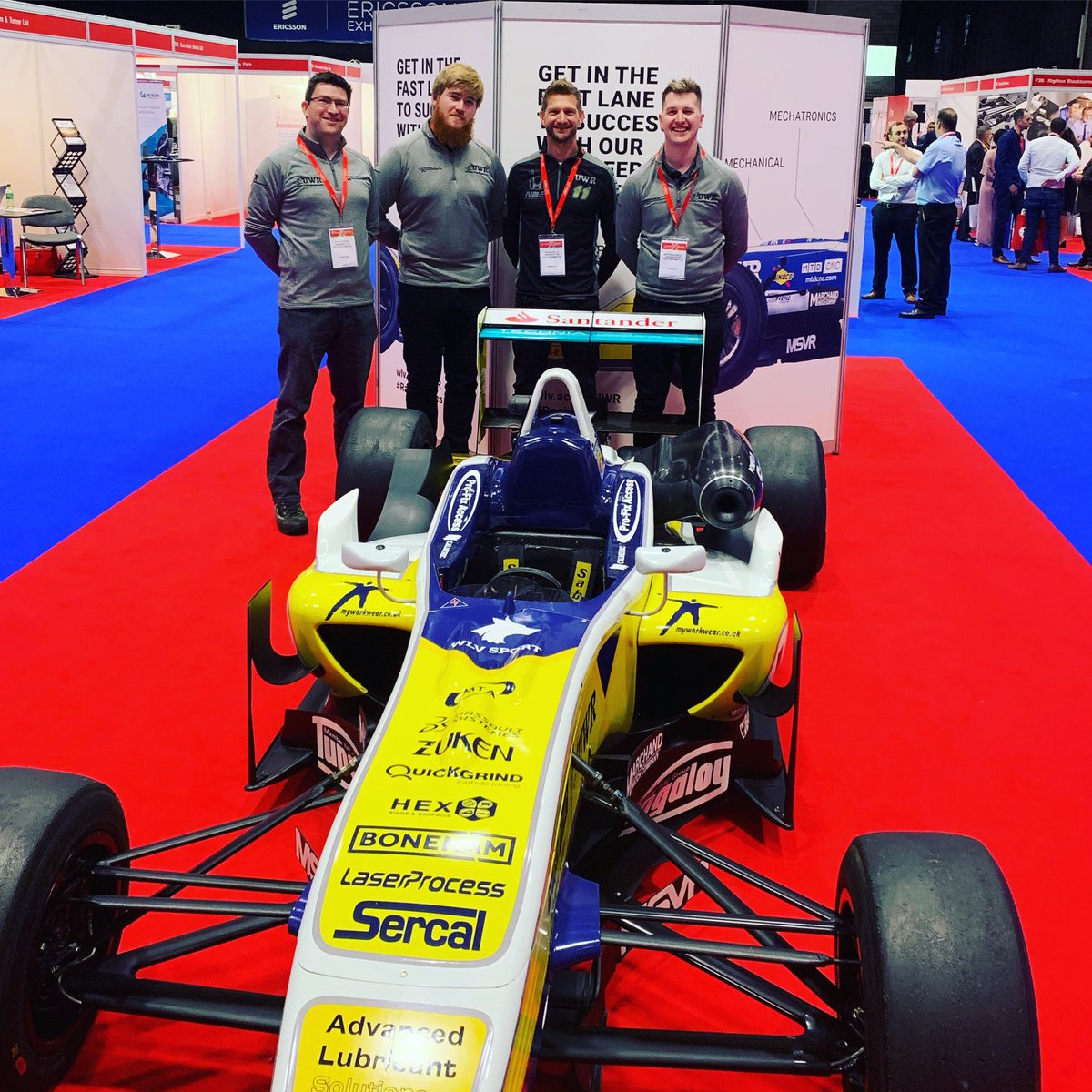 Some displays were harder to miss than others
As well as simulated VR experiences, visitors to Made in the Midlands exhibition 2019 probably caught sight of a full-sized F308/11 car. The formula 3 car was brought to the expo by University of Wolverhampton Racing (UWR), making it the first time the car has been on display in 2019!
UWR attended the expo to catch up with their sponsors, many of whom are Made in the Midlands members, as well as to meet new people. Overall, their presence at the expo is a great example of the breadth and diverse outlets which members can achieve just through networking at the right events and with the right people.
Central Scanning
Central Scanning showing off the huge prospects of 3D scanning
Further showcasing the incredibly diverse range of exhibitors we had at the MiM expo, Central Scanning were one of the few companies in attendance who work with 3D technology.
Visitors who were intrigued enough to stop and talk to the experts at Central Scanning no doubt found out about all of the ways in which 3D scanning can be applied to a myriad of products, services and industries. Upon closer inspection, you might have also noticed a selection of the unique and detailed models produced with this 3D technology.
Central Scanning were also showing off the portability of their products, and could be seen walking the exhibition hall with a handheld scanner. In a truly unique collaboration only possible at the Made in the Midlands expo, the scanner was even used to scan in the F1 car so that it could be printed out in 3D.
Iconsys
An automated debut from Iconsys
Amongst the products which made their debut at the MiM expo, Iconsys' iAM-R was perhaps the most anticipated. This little mobile robot is the latest, cutting-edge example of innovation in business automation coming from Iconsys.
The iAM-R is custom-built and programmed to match each company's needs. Visitors may have seen the iAM-R making moves around the expo floor, doing its part to draw in the curious so that the expert designers at Iconsys can explain how it works and describe the benefits of having a bespoke and automated robot within a manufacturing environment.
Feeling inspired by all the great things our members showcased at the MiM expo? Become a member yourself today, or upgrade your membership, and join the Made in the Midlands Family with hundreds of other leading manufacturing companies.